Bicycle Thieves: A Real Italy
By Kim G.
I had the television turned onto TCM (not a rare occurrence) and a commercial for the upcoming Essentials film came on: The Bicycle Thieves. Actually I believe this is a repeat of an earlier Essential from this year but I missed that showing so I figure why not write about this brilliant film now?
I visited Italy back around May 2005. The movie that sparked my interested in the country in the first place was the wonderful Roman Holiday starring Audrey Hepburn & Gregory Peck (a definite favorite of mine).
However, looking back I really wish I had seen Bicycle Thieves instead. This film gave me a new appreciation for Italy a film like Roman Holiday could never give. Of course in both cases we are talking about an Italy of the past or more precisely a Rome of the Past. Yet whereas Roman Holiday presented an idolized and romantic Rome; Bicycle Thieves presented something much more realistic.
Bicycle Thieves is a film that truly captures another time and place. In this film we follow a father & son (played by non-professional actors: factor worker Lamberto Maggiorani & 7 year old Enzo Staiola) through the streets of post-war Rome as they search for the father's stolen bike. This bike is essential to his daily livelihood. These were the real streets of Rome with real people. These were not sets created for a movie or a magical place for tourists. In fact in one scene of the film the young Enzo Staiola is almost run over by a car (this scene was real and not staged).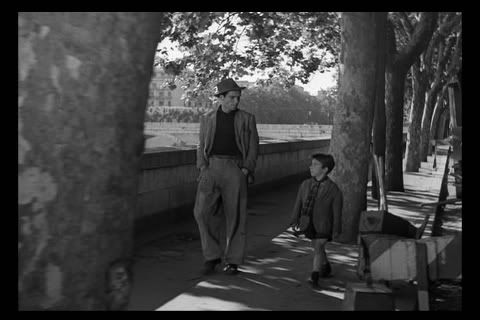 This is essentially what Neo-Realism is all about. The story itself might not be real but the issues of the film (economic hardships caused by the war) were real at the time. The realities of these films were heightened by the use of non-professionals as actors and location filming (something that was not common back then). These types of movies were often filmed in poor neighborhoods and the countryside; places that had been hit hardest by the war. The camera captured the destruction in Italy first hand for movie goers.
The Rome presented in Bicycle Thieves is not the Rome of today but it was one that existed in the late 40's and that is one of (many) things that makes the film so fascinating to me. When I watch classic films I enjoy seeing what things were like back then. However, with Hollywood films I do have to wonder how much I am seeing is real & how much is what the Hollywood producer wanted me to see at that time. Italian Neo-realism films on the other hand; might not present a happy place but it does present a real historical setting that was captured so perfectly in Bicycle Thieves & other films of its kind.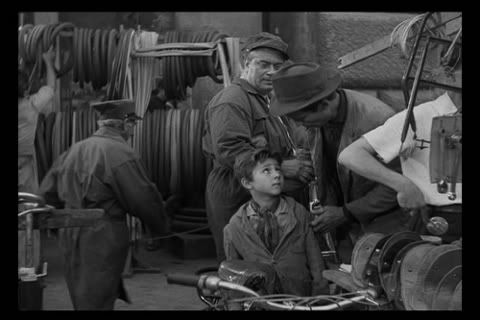 Bicycle Thieves started my affair with Italian Neo-Realism. Other Neo-Realism films I saw and can personally recommend are:
 Ossessione- The Italian version of the Postman Always Rings Twice (more of an influence on the genre)
The Rosellini War Trilogy (Rome, Open City; Paisan, Germany Year Zero)
Shoeshine/Sciuscia- Also directed by De Sica
Umberto D- Also directed by De Sica
I Vitelloni- Directed by Fellini although quite different from his later films
Il Posto- Coming out in the 1960's this was a bit after the Italian Neo-Realism movement but I feel it still shares many qualities with Neo-Realism.
Criterion also has a helpful write up on Italian Neo-Realism here.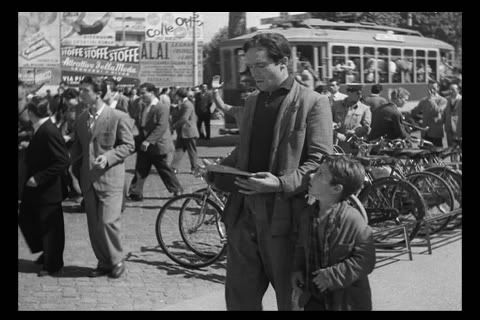 Additionally besides Bicycle Thieves, TCM is having a night of Italian Films on Saturday including (all films listed in EST):
 Riso Amaro/Bitter Rice at 10:00 PM: An Italian Neo-Realism film I have not seen
La Strada at  Midnight: AGreat Fellini film starring the magical Giulietta Masina & Anthony Quinn.
Rome Open City at 2:00 AM: Mentioned Above, the first film in Rossellini's War Trilogy. It was filmed almost immediately after Nazi Occupation & you can clearly see the physical destruction the war did to the city.
Mamma Roma at 4:00 AM: Another film I am not that familiar with but it is part of the Criterion Collection and starring Anna Magnani who is also in Rome Open City.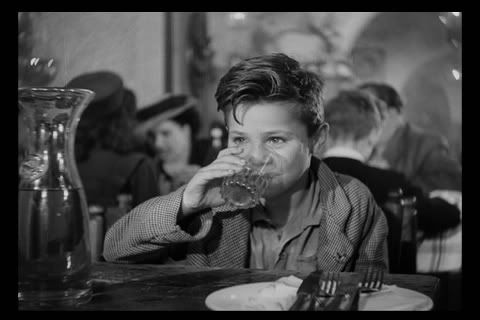 Of course I know many people have already seen Bicycle Thieves but if you haven't, Saturday night seems like the perfect time to amend that!
Related posts:
Jill Blake
Jill Blake is the owner of the classic film website Sittin' on a Backyard Fence. She is also a co-founder and editor of the film site The Black Maria and film editor at CC2K. In 2012, she was interviewed on-air by Turner Classic Movies host Ben Mankiewicz. In 2013, she was a featured guest on the TCM podcast. In her spare time Jill is a stay-at-home mom, wife, fried okra connoisseur, and the neighborhood's own L.B. Jeffries.